Details

Category: Web design
There is no shortage of Ecommerce solutions nowadays; in fact some of the most famous Ecommerce solutions are available for free as well. An Ecommerce solution serves as the back bone for your online store. There are several aspects linked with the effective running of an Online Store and the majority of these aspects can only be catered if you have an Ecommerce solution at your disposal.
As we said earlier there are many Ecommerce solutions that are available out their however the three most famous Ecommerce platforms available nowadays are PrestaShop, Magento and OpenCart. Let's see these platforms in the headings below
PrestaShop
One of the best Ecommerce solutions is PrestaShop. Published under the famous OSL, PrestaShop has been crafted in PHP language with due support for the MySQL database system. According to one statistic, the software is being utilized by around 250,000 online shops around the globe. In more than 60 different languag, you can use PrestaShop to create a Mobile Friendly Website, PrestaShop is currently available.
If you are someone who previously had the opportunity to utilize a content management system like Wordpress then the interface of PrestaShop will be very simple for you to actually understand. The back end of PrestaShop shows the analytics clearly along with a detailed set of information.
PrestaShop is home to a documentation which assists you in the learning of ropes. If you select to actually get the documentation skipped then even in such a case, learning PrestaShop would be piece of cake for you. You can easily learn about the platform on your own without facing any serious kind of difficulty. However a small experience pertaining to CMSs and websites will be a plus.
Prestashop blog module will help increase traffic to your website, boost your sales and improve visibility of your website on social networks as well as search engines such as Google, Bing, Yahoo, etc. The blog module has been used by 500+ Prestashop websites and it's quickly becoming the most used blog module for Prestashop.
Some key points pertaining to PrestaShop are as follows
PrestaShop has a nice network when it comes to certified partners
PrestaShop falls under the category of Open Source
The software is home to a responsive default theme
 

A live editor is also their
Magento
Magento is also one of those Open Source Ecommerce platforms which have been written in PHP. The original developer of the software is Varien which is US company having its headquarters in Culver City. It was Varien which actually published the release of the software in the year 2008. Later on the CEO of the company sold the company to eBay. Today Magento is very much the product of eBay.
Despite being a professional solution pertaining to Ecommerce, Magento can be very effectively used for online stores as well regardless of size. Magento is home to some wonderful features such as built in SEO, admin interface and an effective inventory management system.
According to one research today more than 200,000 Ecommerce stores are operating of Magento. The software has three different editions namely community, enterprise and cloud enterprise. Cloud Enterprise is free of cost and is the best especially if you are a newcomer in Ecommerce.  Key points pertaining to Magento are
The scalability offered by Magento is simply awesome
The software is open source with a nice development community behind its back
 

A lot of extensions are offered by Magento
Order management tools are also very much their
OpenCart
OpenCart is also a well-known online store management application which has its basis in PHP. The software utilizes HTML components and MySQL database. There are various currencies and languages for which support is there in OpenCart. Some key things which actually define OpenCart are
Built-in discount systems and affiliate are available in OpenCart
The software is Open Source
OpenCart is home to a comprehensive catalog of extensions as well as themes. Both premium and free options are available for you to choose
The significant metrics of your store get automatically tracked by OpenCart
20 payment methods are excepted by the software
Products can be differentiated as per their features and attributes
Make your Purchase
All of these three mentioned platforms are worth purchasing however at the end of the day it really depends on your work dynamics and professionalism. To make the right decision it is recommended that you should seek help from a professional. A professional may discuss with you your ideas and based on that may recommend you an Ecommerce platform.
Details

Category: Web design
Today we live in the era of cell phones. Not only cell phones, today we use the facility of smart phones through which a person can do all his office work. The technology is going very fast and it will not be a surprise that in coming years we may be exposed to other cutting edge communication devices.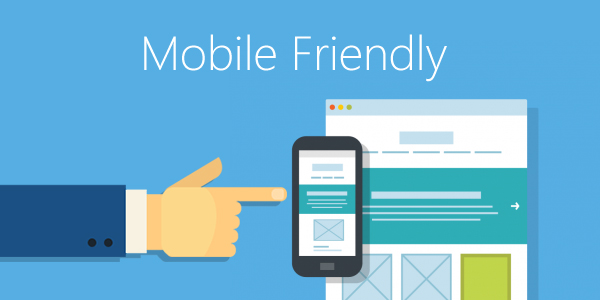 The business world has also been affected by technology and with internet nowadays you can hardly afford not having a website of your own. Previously a desktop website was enough but now more than desktops people visit the internet from their smartphones. Under such a scenario it is very hard for any businessman out there to ignore a mobile friendly website.
The Reasons
There are many reasons which have contributed to the importance of mobile friendly website. The majority of these reasons have been listed by us in the points below
The biggest reason as already explained is the smart phone or cell phone itself. People are using their phones continuously 24 hours a day. Their entire office and recreational activities are on their cell phones. Under such a scenario if your company does not have a mobile website of its own then you can imagine the loss which you can face
 

The majority of Ecommerce traffic gets generated from mobile phones. According to one of the statistics half of the traffic actually gets generated from mobile phones. You surely need to keep this aspect into consideration as a businessman
Mobile users use their phones in a very different way as compared to a desktop. They may be standing in a Que or may be sitting on their sofa. They use their phones for a few minutes only. A site which takes a lot of time to get loaded is not compatible for such an audience. To cater this audience you need to come up with a mobile friendly website
According to one of the researches the people using mobiles purchase more as compared to the people who utilize desktop computers. We do not know the reason behind this phenomenon however one thing is for sure! If this is the case then mobile friendly website is very important for you
Not only mobile friendly website rather you need a mobile optimized website as well. Mobile users do a lot of multitasking and to keep them engaged in your site, it is necessary that you optimize it too
If you have an attractive mobile friendly website then this will not only attract visitors towards it but rather it will also help you in getting into the good books of Google. One of the criteria of Google for higher search engine ranking is a well-developed mobile website.
The ultimate benefit of a having a mobile friendly website lies in the fact that such a site helps you in the enhancement of your brand awareness. The main goal of marketing is awareness!
Making a mobile friendly website
We have already seen the reasons why mobile friendly website is necessary for you. We can choose many Free Open Source E-commerce Platforms to create a mobile friendly website. There are many things which are involved in the making of a website. Some of the key considerations have been discussed in the headings below
Some key considerations
Whatever web designs you come up with ensure that it is either adaptive or responsive. Usually it is preferred that you go for responsive design as this is something which can be achieved with ease
Now let's look at the key things
 

First of all you need to make your web design. This can be done by you if you are an expert. If you are not a professional and have financial issues then in such a case you can learn web designing on your own too. There are many tutorials available on the internet in this regard
 

If you wish you can purchase a template as well as that can make your web designing much easy
If you wish you can hire a developer as well. However it is recommended that you should hire a true professional. Choose the developer with utmost care and it is recommended that you avail the services of someone who is already well-known in the market.